As we shift back into a physical space for work, businesses are re-evaluating what it means to provide a healthy, productive work area. How do you make your employees feel safe and focused by prioritizing workplace cleanliness?
The CDC has raised its level of caution, and there's now a need for various disinfection products and methods to keep workers safe. This is an opportunity to improve any business with cleaning methods that date back to 2019 or before.
In this post, we'll define and explain workplace cleanliness and how you can implement it in your business.
Workplace cleanliness after 2020
Hygiene at work is getting an upgrade. Returning to work means updating the newest cleaning practices and making a plan.
---
Do you have a back-to-work plan? Download our easy-to-implement, multi-step guide to ensure your employees feel safe returning to work.
---
The latter is especially important because it's not just opening up that will involve different cleaning instructions. So, too, will maintenance as we continue to move towards having more people in the office at once. Remember that now — more than ever before — employees will be hesitant to work as they did before, so not only will you have to improve your cleaning, but also how you communicate new hygiene upgrades with your staff.
Why keeping workspaces clean is important
Some workplaces worked all through 2020 to keep their business safe for customers, but what about employees? Before, keeping workplaces clean was the primary way to establish a neutral workplace. Employees could feel comfortable and work within a space that didn't distract from their job.
Though that is still invaluable to an office, the importance of workplace cleanliness has shot up to the #1 spot on management's list of priorities. We view closeness, health, safety, and work in entirely new ways now, and the way we approach workspace hygiene must reflect that.
Need experts to sanitize your space? Our SuperiorClean program can help through building inspections, preventative decontamination, and enhanced disinfection.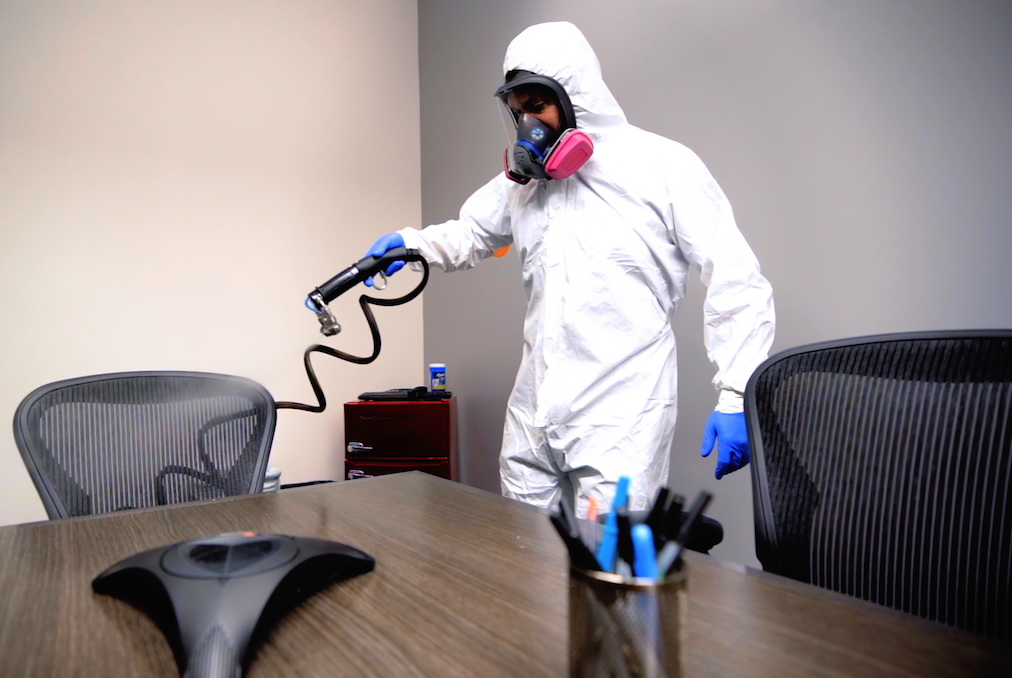 How to Implement and Maintain Office Sanitization
Not only are we returning to work after a global pandemic, but we're also going back to previously abandoned spaces. Offices were often left suddenly, without preparation for what awaited.
This haste means that facilities will probably be in a state of widespread fungus, mold, and other risks. This, plus additional disinfection protocol to keep spaces low-risk for COVID-19, will guide your way through this new start.
Here are some steps to take on office sanitization efficiently.
Develop a plan - Before you start, set goals for what you'd like to see before returning to work. Then, assess where your facility is at now. There might be a lot to do, but it can be taken care of with a good plan and execution.

Go through your facility to assess and log the state of your spaces electronically. Identify which areas need more attention and more frequent maintenance. Do this early so you can determine all risks with plenty of time to address them before fully reopening.


Hire professionals - While your in-house cleaning staff is prepared for pre-pandemic hygiene, reopening requires that you hire professionals. Work with an expert team that does the job with PPE, is trained in preventative decontamination, and comes equipped with decontamination materials. Make sure the professionals you choose offer all the

decontamination services you need

.


Communicate to your workforce - To make both desk job employees & cleaning staff comfortable with the return to the workplace, they should be aware of upcoming changes in your cleaning standards.

Inform them that you'll be using more advanced methods, such as

Hydrogen Peroxide Fogging

, to reduce health risks.

Assure them there won't be any need for cleanliness police. With professional cleaning services like

Pegasus' SuperiorClean

, they'll now be able to access data about dates and times of the most recent disinfection and upcoming schedules for cleaning.


Implement and maintain - Once you've gone through all the previous steps, implement your new approach to workplace cleanliness. Both the time for the initial cleaning and the frequency of maintenance depends on your facility. Trust your hygiene professional to advise on the frequency of maintenance you need and schedule for it.
Start Your Safe Return to Work
As you start your new plan, remember you're not alone in returning to work with caution. Businesses worldwide are doing the same, and you can hire expert professionals to help.
With this plan for back-to-work cleanliness at your business, your company will feel at ease entering the doors daily. Each one of these steps will go a long way in making everyone safe and keeping their focus on work without worrying.
Take one step today to implement and maintain a cleanliness policy and ensure your safe return to work by learning more about professional office sanitization.