The Historically Underutilized Business Zone (HUBZone) program is a contracting program that aims to increase the access small businesses from economically underprivileged areas in the United States have to government contracts. In other words, the HUBZone program helps communities with business and economic development. This assistance helps reduce issues like unemployment and homelessness and benefits everyone from the government to the citizens.
The federal government limits competition for contracts in these disadvantaged zones and intends to give at least three percent of its total contracting funds to HUBZone-certified businesses. By joining this program, businesses can compete for those exclusive contracts and receive an additional 10 percent price evaluation preference.
What Is a HUBZone-Certified Business?
To be HUBZone-certified, a business must meet certain criteria. For one, it must be considered a small business. Additionally, its main office must be located in a HUBZone and at least 35 percent of its employees must live in a HUBZone. Finally, it must be majority-owned and controlled by U.S. citizens, an Indian tribe, a Native Hawaiian organization, a community development corporation, or an agricultural cooperative. Beginning in 2019, HUBZone-certified businesses will be required to re-certify every year.
Because of these requirements, HUBZone-certified businesses are guaranteed to care about the communities they're part of. They're going out of their way to contribute to the health of their economy and to ripple that health and growth throughout the nation.
Why You Should Care If You're Working with HUBZone-Certified Businesses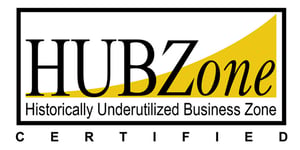 Partnering with a HUBZone-certified business means you're contributing to the economic health of the entire nation. Currently, less than half of the money the government has set aside to distribute to HUBZone businesses has been utilized. As a result, the program has not yet generated enough contract dollars to make a national economic impact. By partnering with a HUBZone-certified business, you can help boost those numbers and make a real impact on local communities as well as the nation at large.
The HUBZone program is designed to help communities grow and thrive. It is a tool to provide opportunities where few existed before and to help spread business development and growth. When you work with a HUBZone-certified business, you help build communities and you know you're working with a company that cares. HUBZone-certified businesses care about the present and the future. They care about people. They are on a mission to reduce unemployment and homelessness, and they take that mission personally because their businesses and employees live and work in HUBZones.
How to Find HUBZone-Certified Businesses
The government has made it pretty easy to locate HUBZone-certified businesses. You can locate these businesses and verify their certification using the Small Business Administration's (SBA) Dynamic Small Business Search (DSBS). You can also check out the SBA's HUBZone map, which shows both qualified and expiring HUBZones throughout the county.
If you're looking for a commercial cleaning provider that is HUBZone-certified, Pegasus received its certification in 2018. Our corporate headquarters is located in San Diego, California, and we have several other offices throughout California as well as one in Arizona. If we can help meet your cleaning needs, contact us today. Otherwise, we hope you'll explore your HUBZone options and contribute to the economic health of the U.S.!