Many groups have, unfortunately, been underrepresented and underutilized throughout our society's history, but we are making great strides toward equality when it comes to race, gender, sexual orientation, religion, and more. Among the efforts of this push toward broader acceptance is an increased focus on workplace diversity, which has benefits for the workplaces themselves and the companies they partner with. Many organizations are taking steps to ensure diversity while incentivizing other organizations to increase and promote diversity as well. Our culture is changing, and we're seeing these under-supported groups receive the support and recognition they deserve as a result.
Diversity Certifications
The Supplier Clearinghouse, for example, offers a Supplier Diversity Program. This program provides certifications for independent businesses that are majority-owned, managed, and controlled on a daily basis by women, minorities, those from the LGBT community, and disabled veterans. These certifications are governed by General Order 156 from the California Public Utilities Commission (CPUC).
CPUC regulates services and utilities in California. The Supplier Clearinghouse verifies the status of firms seeking women, minority, and LGBT ownership certifications while the Office of Small Business & Disabled Veteran Business Enterprise Services verifies the status of firms seeking disabled veteran ownership certifications.
Becoming certified under General Order 156 means the business is officially recognized for the diversity of its ownership. While this recognition itself is fantastic, it speaks to something even greater: the fact that society is recognizing the value these historically under-supported groups bring to the workforce.
What Partnering with a Certified Company Means for You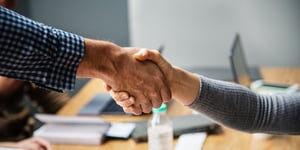 Many businesses are excited to be part of this inclusion movement, to champion workplace diversity to the masses. Because of diversity certifications, the efforts of these businesses automatically extend to other organizations as well.
According to General Order 156, participating utilities' suppliers must be 15 percent minority-owned, 5 percent women-owned, and 1.5 percent disabled veteran-owned. Certified businesses are put in a centralized certified suppliers database that is referenced by participating utilities to help meet those procurement goals.
If you are a participating utility, CPUC's database is an invaluable resource, but you don't have to be a participating utility to value diversity in your partnerships and benefit from this resource. This database can be accessed by anyone who appreciates the contribution of these underrepresented groups and is interested in complying with CPUC's standards.
A Closer Look at Women-Owned Business Certifications
Women-owned businesses in particular are defined as those where at least 51 percent of the organization is owned by women and where management and daily operations are controlled by one or more women. Businesses that meet these standards can become Women Business Enterprise (WBE) certified.
Pegasus Cleanroom Cleaning Services is WBE certified under the Supplier Clearinghouse's Supplier Diversity Program. If your organization utilizes controlled environments like cleanrooms, is in need of a cleanroom cleaning service provider, and is interested in supporting diversity through your supplier partnerships, we can tick all those boxes.
Why You Need a Cleanroom Cleaning Services Provider
Cleaning controlled environments are not the same as cleaning other parts of your facility. There are many nuances to understand and considerations to make when cleaning these sensitive areas, but there are also strict regulations that must be adhered to. To avoid failed audits and quality checks, you need to ensure your controlled environments are being properly cleaned by a team specifically trained in such areas.
That's where Pegasus comes in.
We know what you need and how you need it, and we now have the added value of being a certified women-owned business. We'd love to partner with you on any Cleanroom Cleaning service needs you might have. Don't hesitate to reach out today!